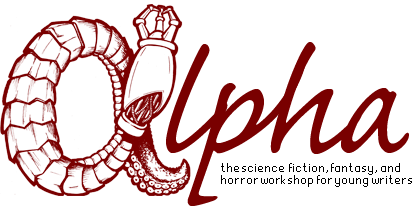 Alpha is a science-fiction, fantasy, and horror writing workshop for writers ages 14-19 held every year at the University of Pittsburgh's Greenburg Campus.  This year's workshop is scheduled for July 18-27th, in conjunction with Pittsburgh's science fiction convention, Confluence.    They look for enthusiastic, talented young writers who have a strong interest in science fiction, fantasy and/or horror and a passion for writing.
As a two-time alumni of the Alpha workshop (I applied the summer after my freshman year at UCLA, and was invited back the year after), Alpha provides a great opportunity to learn more about writing, learn from famous authors (including Tamora Pierce), and to meet like-minded writers and life-long friends.
If you're interested, the application date this year is MARCH 2nd, and all applicants must submit a story of 2000-6000 words.